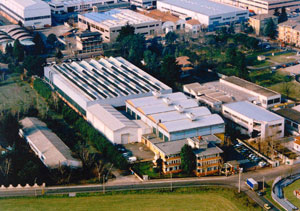 Kemtech is proud to associate with EURODRAW to introduce their world class products to the Indian Wire & Galvanizing Industry. Eurodraw was established in 1974 with the name GCR Engineering SpA, as an associate of the GCR Group. Development continued with the acquisition of prestigious trademarks such as MILL and OZ Cams and was further extended when Eurodraw Srl was set up in 1989 became a leading company in the field of machinery for the steel wire industry. In January 2002, a deed of incorporation was stipulated and GCR Engineering SPA merged with its subsidiary Eurodraw Srl and assumed the company name of GCR Eurodraw SpA and in 2015 Eurodraw Wire Equipment srl.
In addition to its world class machinery solutions for the Wire Industry Eurodraw Wire Equipment provides technical and technological advisory services, technical-economical-financing feasibility studies, production technologies, instruction and training of personnel, supervision of plant installation and start-up, as well as technical assistance and consulting for management of production quality. The Company has a very high business volume and potential in relation to its size which is due to its dynamic and flexible structure. In fact, Eurodraw Wire Equipment has chosen to operate with a restricted, selected and highly specialized staff of technologists, designers and experts all of whom are highly experienced, not only in the design and manufacture of plants and machines, but also in the technological management of production plants. All the design work is carried out within the Company, but with the help of consultants who are expert in the study and application of advanced technical solutions for the industrial mechanics and electronics sectors.
Eurodraw design and manufacturer dry and wet drawing machine for the most unique and diversified applications and various steel grades. Eurodraw's process line include patenting line, annealing lines, hot-dip galvanizing lines, pickling lines, electro-plating lines configured either as single wire or multi wire line etc.
---
Eurodraw Product Range:
Wire Drawing Machine:

Dry Wire Drawing Machinefor the most unique and diversified applications and various steel grades. Dry drawing machine are suitable for high and low carbon steel wire as well as stainless steel.
Wet Wire Drawing Machinefor the most unique and diversified applications and various steel grades. Wet drawing machine are available with 9 up to 28 drafts and in various configuration. All machine can be combined with spoolers, coilers etc.

Wire Processing Lines:Configured either as Single Wire Or Multi Wire Line

Patenting Lines
Annealing Lines
Also Eco-Friendly Ultra High Speed for very particular special applications:

Hot-Dip Galvanizing Lines
Pickling Lines
Electro-Plating Lines

Stranding Machine:

For production of Steel Wire Ropes.
Double Twist Machine which can be configured as in-out or out-in machine depending on the spool size and rope diameter.
Tubular Stranders and Closers for the Larger ropes.
Also all kinds of spool, pay-off arrangement to feed the machine and suiting all specific customers needs.

Cold Rolling Lines: can be combined with either horizontal spooler or double vertical spoolers with semi-automatic change over system or even with a bar straightening and cutting system

Double or Triple Block Rolling Lines for cold rolled products.

Concrete Steel Reinforce manufacturing Equipment's:

PC Strand Lines
PC Wire Lines

Brass Plating Lines:

High Speed Single Wire Configuration (best option for plants with capacity up to 6000 tons/year)
Multi-Wire Configuration (for large plants more than 6000 tons/year)

Electro Galvanizing Lines:  To produce Staple Wire, Lightly Galvanized High Or Low Carbon Steel Wire Etc.

Single-Wire Lines
Multi-Wire Lines

Batch Pickling lines:with VJL technologies, build the most modern environmentally friendly and efficient plants for pickling

Wire Rod with hazardous emissions that are virtually zero. Plants are designed for hydrochloric or sulphuric acid pickling of 60000 to 240000 tons/year. 

Rope Manufacturing Equipment: For Production Of Cord, Cable And Wire Ropes.

Stranding Machine
Bunching Machine
Cable Machine

Auxillary Equipment, ancillary equipment and process support equipment: includes wire pointer, wire welders, cooling tower, acid recovery plants as per customer requirements.
---
Applications and Markets Served:
Construction Reinforce Wire
Steel Wire Manufacturing
Steel Manufacturing Industries
Cable Manufacturing
Wire Rope Manufacturing
Tyre Cord Manufacturing
Bead Wire Manufacturing
Steel Wire Ropes Manufacturer
Galvanizing & Pickling Plants
Brass Plating Lines
Wire Coating Lines
Wire Plating Lines
Products Gallery