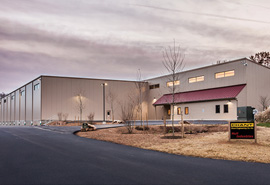 Since 1970 Chant Engineering has been in the forefront of machinery manufacturing. Today Chant is truly a one-stop shop, having expanded the product line to include all machinery used in the wire rope and rigging industries, while maintaining the highest standards of quality and excellence.
Chant Engineering's innovative machines are used to test in tension, compression, fatigue, and torsion. We also manufacture a complete line of aircraft and component hydraulic test stands for testing pressures, flows, temperature, cleanliness, etc. These machines are extremely heavy-duty and have proven themselves in years of rugged, real world industrial and military environments.
All Chant Engineering test beds will perform proof load testing, destructive (break) testing, cycle testing & long term fatigue testing (depending on options) at the specified load capacity with no reduction.
The Test Beds come standard with fully enclosed test bed frames (ends, top, bottom) are built with hydraulically operated safety guards for operator safety and will do full capacity/full length break testing. We also make completely custom Test Beds.
Chant offers a wide range of high quality machines for coiling, reeling, annealing, swaging, measuring and cutting. Chant can combine these units into a system, customized to your specific needs. We manufacture aerospace and military components as well as civil works hydraulic equipment and controls. We provide complete worldwide turnkey projects from conception through completion with on-site installation, start-up, training and documentation. We have a team of technicians that travel the world doing calibration, maintenance and service. Today Chant Engineering is a global, multi-faceted, diversified engineering company that designs, manufactures, services and calibrates testing machines, systems and related accessories for worldwide industrial and military customers.
At Chant Engineering, we strive for "Engineering Excellence" in everything we do.
---
CHANT ENGINEERING Product Range
Proof Test Machines
Calibration
Wire Rope Annealers
Wire Rope Cutters
Wire Rope Grips
Swagers
Coiling Machines
Reeling Machines
Round Sling Machines
Turntables
Load Links
Ferrules
Dies
Sleeves
Sleeves
Test Stand Machines
---
Applications and Markets Served:
- Test Beds used for Tension Test Or Proof Test of
Wire Rope,

Fiber Rope,
Chain,

Lifting Slings And

Other Types Of Lifting Gear.

- Custom built Test Stands used for testing parameters like (TENSION, COMPRESSION, FATIGUE & TORSION : ACCELERATION, CYCLE, ELONGATION, FATIGUE, FLOW, FORCE, HEAT, PRESSURE, RPM, SPEED & SWITCH POINTS) for
Wire Rope,

Aerospace,
Automotive,

Commercial & Military

Products Gallery