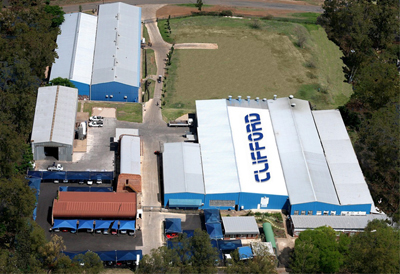 Kemtech is proud to be associated with Clifford Machines & Technology for the past decade and have successfully supplied multiple welding machines to the indian grating & welded wire mesh industry.
CLIFFORD WELDING SYSTEMS was founded in 1969 by Mr. Clifford Sobey, who at that time, had already spent the past decade advising and consulting to the wire industry and developing and manufacturing machines for the industry. He established the company with a vision to produce top quality affordable machinery for the ferrous wire industry.
His vision has been realized over the years as Clifford developed from a small local company into an internationally recognized producer of technologically advanced machinery. The company has over the years applied sound basic engineering design principles and blended these with cutting edge technologies to produce machines allowing Clifford's customers to see significant cost, quality and production benefits in their manufacturing processes.
Clifford's focus on their design is the streamlining of processes, reduction of labour, and improvement of quality and the consistency of output. The team has never hesitated to change their path and go down a more unconventional route in terms of design and innovation to provide business solutions first, not just world class machines.
Almost all manufacture is done in house including designing, machining, fabrication, cutting and assembly for the following range of products/machines:
---
CLIFFORD Product Range
Fine Mesh Welders: produces Chicken Meshes, Fencing Meshes etc. from Wire Coils.
Large Mesh Welders: produces Security & Fencing Meshes etc from either Pre-Cut Wires or from Wire Coils.
Reinforcing Mesh Welders: produces Reinforcement Meshes, etc. from either Pre-Cut Wires or from Wire Coils.
Large Electro-Forged Grating Welders (AC/DC): produces the full range of Electro-Forge Gratings (both MS & SS) at very high speeds from pre-cut or off-coil load bars & cross wires for large production requirements with lowest possible power consumption.
Economic Electro-Forged Grating Welders (AC/DC): produces standard range of Electro-Forge Gratings (both MS/SS) at normal speeds from pre-cut or off-coil load bars & cross wires for smaller production requirements by most economical way with lowest power consumption.
Side-Strip Welder for Grating Panels: For welding the side bar or strip to the grating panels.
Serration Lines for Grating Bars: produces serrated load bars, straightened and cut to length from flat or coiled strip for gratings .
Rolling Lines: Reducing coils of rod down to the required wire diameters at max 750 meters/minute?
Brick Mesh/Ladder/Flat Truss Girder Mesh Welding Machines: produces meshes for the construction industry.
Straightening & Cutting Machines: convert cold rolled coils into straightened bars cut to length at max 300 meters/minute.
Integrated Profiling Straighten & cut to length Machines: convert hot & cold rolled coils into Profiled straightened bars cut to length at max 400 meters/minute.
Shears, Coilers, Stackers and associated mesh handling equipment: Handling mesh products to assist in the high speed production process.
---
Applications and Markets Served:
Welded Wire Mesh Machines: Reinforcement Mesh, Chicken mesh, 358 Security Fencing Mesh, All types of Fencing Panels, Industrial Mesh, Mining Mesh, Gabions, Brick Mesh etc.
Electro-Forged Grating Welders: Walkways, Suspended Ceilings, industrial Grating, Architectural Gratings, Process Industry, Petro Chemical Industry, Power Plants etc.
Brick/Ladder/Flat Truss Girder Welding Meshes: Construction Industry, Reinforcing, Trellis/Lattice Girders, Horticulture etc.
Wire Straightening & Cutting: TMT Bars, Cold Rolled Bars, Pre-Cut Line & Cross Bars for Welded Wire Mesh, Construction Products etc.
Profiling for Rebar and cut to length Machines: Cold Rolled Reinforcement Bars for Wire Mesh Welders or Manual Wire Meshes Etc.
Shearing/Stacking and Turning, Coilers, Mesh transport: Facilitating High speed production & handling of Welded Wire Meshes etc.
Products Gallery