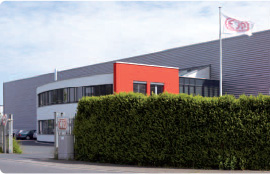 Kemtech is pleased to join hands with EJP Maschinen GmbH to finally bring to the Indian wire manufacturing industry the world's most technologically advanced Combined Wire Drawing and Draw-Peeling Machinery solutions for ferrous as well as non-ferrous bar/tube long products from the world-renowned German company.
EJP MaschinenGmbh started in 1981 as an engineering company and has grown continuously since them and today is one of the leading producers of equipment for the bar and tube finishing.
Due to its highly innovative machine design EJP is recognized as the most advance company in its field. So customers in every industrialized area of the world are using equipment built by EJP to their satisfaction.
With headquarter in Germany and subsidiary companies in Italy, South Korea and China EJP is capable to satisfy their highly demanding customers.
Some of the common applications are the descaling of steel metal bars/wire, drawn sections, pipes, structural steel works prior to painting, flogging and cleaning of foundry casting etc.
EJP company has worked in this sector for more than 40 years and:
Guarantee extremely reliable product due to its technical expertise and its wide range of experience in this fields.
Offer customer ongoing technical support services including plant/machine maintenance and spares.
Supply plants and machine for new and special applications.
---
EJP Maschinen GmbH Product Range
Combined Drawing Systems:Full range of combined systems with drawing systems with forces from 2 to 46 tons and product dimeter of 2 to 60 mm.
Draw-bench Equipment: with forces up to 150 tons driven by double chain or rack and pinion systems. As separate draw-bench or as complete lines with shotblasting, cutting and straightening.
Peeling Equipment: High precision peeling equipment for the production of bright bars with tolerance h8/h9 in diameter of 10- 450 mm.
9 Roll-Straightening Equipment:9 Roll-Straightening equipment and straightening press for straightening of bars, tubes and profiles.
2 Roll-straightening Equipment: : High precision straightening equipment for the straightening and polishing of bars out of steel(Hot rolled, Drawn or Peeled) with diameter of 4 to 200 mm.
Hot Rolling Equipment:for special profiles with -

Horizontal Stand
Vertical Stand
Reserves Mill with manipulator


Auxiliary equipment:for decoiling, chamfering, pointing, recoiling etc. of wire, bars, tubes and profiles. With below configuration:

Horizontal Pay-Off
Rotary Shear
Roll Pointer
Cutting Pointer
Coil Short Blasting Machine

---
Applications and Markets Served:
Steel Wire Manufacturing
Steel Foundry Industries
Cast Iron Foundry
Tire Wire/Bead Wire
Steel Wire Ropes Manufacturer
Automotive Components
Aluminum Descaling
Cold Press Forging Steel
ConcreteArticles
Draw Plating
Products Gallery