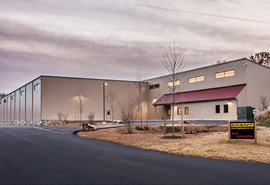 Since the 1950's, Hull Industries has established a worldwide reputation as a leading innovator in engineered equipment and systems. In the early 1990's the company acquired Finmac Inc., a leader in deflashing systems for thermoset plastics and electronics.
Today Hull Industries offers a wide range of equipment for plastics processors, backed by special engineering and turnkey design and installation. From testing and evaluating resins to performing trial production runs of customer jobs, from engineering new production processes to modifying standard equipment for unique production requirements, Hull Industries thrives by working with you to meet your challenges.
---
HULL INDUSTRIES Product Range
Plastic Molding Equipment
Hydraulic Stuffers
Deflashing Systems
Injection Molding Systems
Vacuum Potting Systems
Vacuum Impregnation Systems
Refurbishing Services
Spare Parts
Onsite Service
---
Applications and Markets Served:
Automotive
Electrical
Medical
Low-Pro compact deflashing system for electronic parts – The compact, powerful Low-Pro deflashing system employs dependable low pressure suction blast for precise deflashing of lead frames with thicknesses as low as 4 mils. Versatile belt track conveyor system adjusts to accommodate strips from 3/8" to 2-3/4" wide and up to virtually any length. Uniform edge-to-edge blasting is achieved across each strip. As teel top rail grounds the strip throughout. Cutouts with ceramic inserts are included to allow blasting right at the top of the strip.
Shuttle Press – Hull's combination Transfer and Compression Presses increase production and decrease costs by having one operator for 2 convenient loading stations, you can load and unload one bottom mold half while components in the 2nd half are undergoing cure. The same machine can be used for both encapsulation and general insert molding work. This is ideal for small parts with delicate inserts such as microcircuits, integrated circuits, transitors or large parts such as coils, transformers and relays. Parts requiring core pins, threaded inserts and coring prior to ejection can be routinely produced. An adjustable low pressure system for the pressing phase for both the clamp and transfer rams enables this press to cover a broader molding scope not normally associated with large machines.
Rollaveyor Automated At-Press Deflashing System – The portable Rollaveyor Deflashing System provides automated, high-efficiency deflashing at the molding press for small or large parts in batch or continuous operations. Small parts may be deflashed individually or in twin blast chambers. Dividers may be added to create up to eight compartments with separate tumbling paths. Belt speed and tilt angle can be adjusted for almost any tumbling motion. This is a compact, caster-mounted unit that saves floor space and can be moved conventiently away from the press to allow for mold changes or to another press as needed. It receives parts directly from the molding press via conveyor to keep pace with molding, reducing handling and eliminating parts storage.
Transfer Molding Presses – Hull Industries T-Series Trans Molding Presses off the optimum combination of manufacturing flexibility and precision control. Ideal for precise, highly repeatable molding – they accommodate small, intricate shapes, including parts with thin walls, fragile inserts and close-tolerance buildup dimensions. These are available in standard models from 6 tons to 250 tons – presses and auxiliary equipment can also be custom-engineered to your materials, process and production requirements. High output, high yield presses are designed with small footprints across all models.
Vacuum Impregnating Systems – In a large variety of installations throughout the world, Hull's Vaccum Impregnating Systems provide high productivity and reliable efficieincy. Based on the same proven design standards, Hull can develop a custom system that specifically meets the requirements of your application. The Vacuum-tested chambers and tanks may be round or rectangular and can be built to ASME code for full vacuum and up to 200 psig pressure. Hull's impregnators incorporate a welded flange to improve sealing quality for use at higher vaccum. Optional construction features include quick-opening covers, and counter-weighted or hydraulically raised covers, and any other features can be custom engineered according to a customer's requirements.
Products Gallery