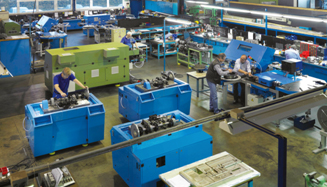 Expert for wire processing machinery High-precision machine engineering with decades of experience – that is what Jouhsen Bundgens stands for. The global player successfully focuses on wire processing machines. With Jouhsen Bundgens production boils down to a simple formula: Precision + Speed = Efficiency.
Thanks to its engineering know-how and sound German expertise Jouhsen Bundgens realises custom-made solutions for many different fields of application with the utmost precision – be it medical equipment, roller bearings or consumer products – our highly qualified team explores and grasps every aspect of the respective processes.
The result: reliable machines tailored to your needs. With these machines you can:
Process wires with a diameter of 0.02 to 16 mm.
Manufacture parts out of wires with a length of 2 mm to infinite
You can always expect tailor-made solutions that enable fast, precise and efficient manufacturing.
---
JOUHSEN PRODUCT RANGE
Straigthening and Cutting: Axles, shafts, needles, cannulae, pins: It all starts with wire or tubing from a ring or coil.
Electro Fisson: An efficient high-precision process to cut wires and tubing burr-free.
End Machining: To manufacture geometrically shaped ends such as chamfers, radii, recesses or grooves at high-speed and with maximum precision.
Cold Forming: The efficent possibility to combine several processes such as straightening, cutting or subsequent processing as point grinding.
Point Grinding: Precise, fast & effective to process needle blanks made of wire with a strength of 0.4 to 1.3 mm
---
Applications and Markets Served:
Automotive: With machinery by Jouhsen Bundgens you can produce bolts, axles or engine shafts for automotive parts in large quantities and with maximum precision.
Batteries:Special pins or nickel-plated pins in a uniform global quality with a high output – production efficiency by Jouhsen-buendgens
Cannulae: Fast production of cannulae with automatic sorting and magazining
Dental Equipment: High-precision straightening, cutting and grinding of dental drill bits.
Drive Chains & Cam Chains: Jouhsen-buendgens machines can process steel or stainless steel with maximum precision at high efficiency.
Electronic Components & Microparts: Include plug pins, contact pins, sockets, feedthroughs and diode pins, among others, which may be made of coated special materials, non-ferrous metals, gold or silver, partly have very small diameters.
Furniture: Efficient production of fittings and door pins for furniture. Process steel and stainless steel and produce in a precise and straight manner – without damaging the surface.
Lancets: Solutions by Jouhsen-buendgens for your round-the-clock production and damage-free wire processing – two key aspects of manufacturing lancet blanks.
Lighting Engineering: Efficient production of electrodes, holders & pins for lighting engineering
Medical Needles: Bending, grinding and laser drilling: three processes that are important for the production of medical needles – one solution for a sucessful production: Jouhsen-buendgens
Roller Bearings: Great precision – with a maximum output. With machinery by Jouhsen Bundgens you can produce up to 2,000 units per minute.
Watches: Extraordinary precision: This is a crucial requirement for manufacturing shafts, axles and pins for clocks and watches. And this requires a high level of dimensional accuracy.
Products Gallery