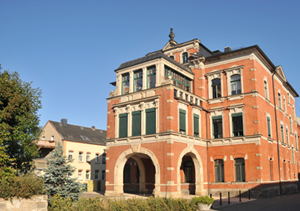 Kemtech is proud to associate with KIESELSTEIN to introduce their world class products to the Indian Wire Industry.
KIESELSTEIN International GmbH is one of the most important manufacturers of modern wire drawing and draw-peeling plants as well as wire processor. We count more than 600 customers in 50 countries in the world and is your professional partner for the development and production of innovation wire drawing plants as well as the modernisation of used plants. We are focussed on offering tailor-made solutions individually design according to our customers' requests.
KIESELSTEIN is the worldwide leader in the area of draw-peeling and shaving plants for the production of spring wire that is used in automotive industry. Our substantial know-how in this technology results from the comprehensive R+D activities which are carried out on our own testing machine located in our company.
In addition, KIESELSTEIN developed the product strucwire®, a 3-dimensional wire mesh in lightweight construction. It can be used in automotive industry, machine construction as well as for medical applications.
---
KIESELSTEIN Product Range
Single-Draft and Multi-Draft Wire Drawing machines
Wire Draw-Peeling (Shaving) machines
Wire Pay-Offs
Wire Coiling and Spooling equipment
Accessories for Wire Drawing (e.g. collapsible spools, drawing and shaving dies)
Eco-L-Box (special soap box)
Spare parts also for machines of former German brands Herborn+Breitenbach, SKET Drahtziehmaschinenwerk Gruena, Malmedie and others
---
Applications and Markets Served:
Wire draw-peeling / shaving machines (vertical and horizontal) : valve spring steel, stainless steel, bearing steel, cold heading steel, copper and copper alloys, aluminum and aluminum alloys, nickel and nickel based alloys, titanium and titanium alloys as well as precious metals and special alloys; inlet diameters up to 19 mm
Multi Block Wire Drawing Machines (vertical and horizontal): for steel, aluminum, magnesium and special alloys as well as titanium and titanium alloys, tungsten, molybdenum and high-temperature super-conductors; inlet diameters up to 26 mm; available also for shaped wire (e.g. trolley wire).
Single Block Wire Drawing Machines (vertical and horizontal): for steel, aluminum, magnesium and special alloys; inlet diameters up to 50 mm
Wet Wire Drawing Machines : for steel, aluminum, magnesium and special alloys; inlet diameter up to 4 mm; finished wire diameter down to 0.08 mm
Hot Wire Drawing Machines : for tungsten and molybdenum; inlet wire diameter 1 mm; finished wire diameter down to 0.005 mm
Spooling Machines (vertical and horizontal) : for wire diameter up to 20 mm; full- or semi-automated types, traversing or flying spool shaft available
Wire Coilers (vertical and horizontal) : for wire diameters up to 8 mm (vertical) and 20 mm (horizontal); available with integrated drawing unit
Pay-Offs for Coils (vertical and horizontal)
Pay-Offs for Spools (vertical and horizontal)
Products Gallery