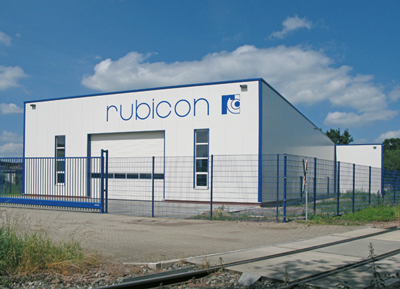 Kemtech is proud to be associated with RUBICON from Germany since the past 5+ years who are inventors & pioneers for some of the world's best rubber extrusion technologies available at an unmatched value proposition & product accuracy.
Rubicon Gummitechnik und Machinenbau GmbH, has years of rich experience for providing customized solutions in the building of machines for rubber processing industries and provides the latest technology and machinery for high quality rubber products. Deliver tailor made solutions as well for single machines as for turn-key projects with the necessary support and find the best solutions and best technology to meet your demands. Worldwide & including India Rubicon, machinery and equipment is used in the production of rubber profiles, hydraulic hoses, multi-ply automotive hoses as radiator, turbocharger, fuel, power steering, fuel, air-conditioner hoses, rubber lined rolls for printing and other applications, industrial hoses, profiles and hoses based on silicone rubber.
Specialized in extruders of small & medium sizes from 32 up to 150 mm screw diameter, Rubicon supplies compact & reliable machines. These are equipped with modern controls as well as screw & barrel designs, which are characterised by high output, product quality & ease of service. Rubicon produces complete lines for the manufacturing of profiles and hoses with infrared vulcanization particularly for silicone processing.
Rubicon's Co-extrusion Lines are predominantly used as duplex or triplex systems for the production of sealing systems & multi-ply hoses for the automobile & the construction industry. Rubicon executes complete commissioning including test production of the finished product and integrates the production lines into firm structure & network.
Rubicon's extruder–gear–pump–combination is used for the production of extrudates with highest requirements of dimensional accuracy & extrusion stability. Rubicon also offers Extrusion Heads for profile, hose & cable production.
---
RUBICON Product Range
Rubber extruders
Mandrel-less Hose Manufacturing Lines with knitted or/and spiralled Reinforcement
Hydraulic Hose Manufacturing Lines
Cable Manufacturing Lines,
Profile Manufacturing Lines
Silicone Extrusion Units
Lines for processing of Silicone Rubber
Continuous Vulcanization Lines based on Salt Bath, Microwave, Hot Air Curing Technique as well as Infrared Curing specially applied for Silicone
Material feed and down stream equipment
Gear pumps and extruder-gearpump-combinations
Laboratory mills
Rubber laboratory equipment
Rubber technology and turn key projects
Extrusion heads
---
Applications and Markets Served:
Rubber Extruders: for most type of rubber applications including Rubber Lined Rolls for Printing & Other Applications, Textile Machine Aprons & Manchons, Cable, Wire & Cord Coating.
Hose Manufacturing Lines for Rubber: Highly flexibile lines allow the production of varied automotive hoses like Power Steering, Fuel, Air-Conditioning or Shaped Hoses as well as High-Pressure Hydraulic Hoses and Fire Fighting. Hence solutions for both Reinforced as well as Non–Reinforced Industry Hoses. Also for manufacturing 3-layer EPDM cooling water hoses, turbocharger & Manifold hoses, 4-layer turbocharger hoses basis fluororubber/silicone, 1-layer fibre reinforced shaped hoses. Hoses with textile reinforcement with up to 5-layers.
Cable Manufacturing Lines: for vulcanization of silicone cables and wires. With the possiblility of combination of several IR-tunnels for the extension of the treatment channel, Flexible completion with redirection units at in-and-out outlet as well as cables guidance between the tunnels for multiple thought the cables.
Profile Manufacturing Lines: Rubber Profiles & Strips of the Automobile & Construction Industry. These are used as seals within all ranges both in automobile and building industries and for medicine, road construction, shipping etc.
Lines for processing of Silicone Rubber: Hoses & Profiles from Silicone Rubber. The good temperature and aging resistance as well as excellent elasticity make it popular material for seals. In medicine and food technology it is used because of it sterilization and odourless.
Laboratory equipment: Among others Laboratory Extruder with on-line rheometer head for determination of shear and strain viscosity of rubber compound. Testing of extrudability of compound with the garvey die, measuring of compound temperature and pressure on the extruder settings.
Products Gallery